Interview of Roxane Leclercq : SHN in Sophia-Antipolis // tennis player
Publié il y a 5 mois par Vincent SIMARD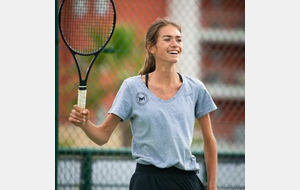 English version below
Bonjour Roxanne ! Peux-tu te présenter ? 
"Bonjour ! Je m'appelle Roxanne Leclercq, j'ai 18 ans et je suis en deuxième année BBA sur la campus de Sophia-Antipolis. Je suis née à Cannes dans les Alpes Maritimes et je joue au tennis. J'ai réalisée mes études au collège Eganaude à Sophia puis je suis rentrée au CIV en section américaine dès la seconde. Je suis très fière d'être une sportive de haut niveau à SKEMA car je trouve que l'école laisse une place importante au sport de manière générale. 
Peux-tu nous parler de ton sport ? 
Je pratique le tennis depuis que je suis jeune. C'est une réelle passion mais c'est aussi une source de partage avec les autres. Je pratique aussi le padel, un sport qui est en plein développement proche du principe du tennis. J'ai commencé à jouer au tennis en suivant l'exemple de ma mère. En effet, c'est une ancienne joueuese de haut niveau qui a participé à de nombreux tournois, dont un des plus célèbres : Roland-Garros. Je dirais que le tennis c'est pour moi avant tout du partage, biensur afin d'atteindre un certain niveau il faut beaucoup pratiquer et suivre un conditionnement rigoureux. Je m'entraîne à Mouratoglou à côté de SKEMA, c'est d'ailleurs là où ma mère travaille, comme quoi le tennis est vraiment encré dans mon quotidien. Je donne aussi des cours de tennis pour les plus jeunes car j'aime beaucoup l'approche pédagogique avec les enfants et de les voir évoluer. 
Peux-tu nous citer ton palmarès ? 
J'ai été classée 4-6 en tennis il y a quelques temps mais j'ai été Vice championne de France de Padel il y a 2 ans. J'ai aussi obtenu mon diplôme d'éducatrice de tennis. 
Comment allies-tu sport et études à SKEMA ? 
En BBA nous n'avons pas tant d'heures en présentiel que ça, ce qui me laisse la possibilité d'organiser mes journées comme je le souhaite. De plus, les sportifs de haut niveau ont un emploi du temps plus flexible. Je prévois mes entrainements en début de semaine selon les cours et les révisions de la semaine. Les autres élèves nous aident aussi à rattraper ce que l'on rate. 
Quels sont tes futurs objectifs ? 
Tout d'abord je voudrais continuer mon BBA aux US car le sport y est mieux mis en avant dans le systeme scolaire la bas. Le tennis doit rester un moyen de divertissement pour ma part donc mon objectiof est de ma faire plaisir en rencontrant de bons joueurs dans des tournois ! Au niveau des études, j'aimerais continuer pour réussirun Master en Finance à l'étranger pour pouvoir, plus tard,  travailler en Management sportif pour gérer le quotidien sportif des athlètes. 
Merci Roxanne Leclercq ! Bonne continuation !  
---------------------------------------------------------------------------------------------------------------------------------
Hello Roxanne! Can you introduce yourself? 
"Hello! My name is Roxanne Leclercq, I am 18 years old and I am in my second year BBA on the Sophia-Antipolis campus. I was born in Cannes in the Alpes Maritimes and I play tennis. I completed my studies at the Eganaude College in Sophia and then I entered the CIV in the American section. I am very proud to be a high-level athlete at SKEMA because I find that the school leaves an important place for sport in general. 
Can you tell us about your sport? 
I've been playing tennis since I was young. It is a real passion but it is also a source of sharing with others. I also practice Padel, a sport that is in full development close to the principle of tennis. I started playing tennis following my mother's example. Indeed, she is a former high-level player who has participated in many tournaments, including one of the most famous: Roland-Garros. I would say that tennis is for me above all sharing, of course in order to reach a certain level you have to practice a lot and follow rigorous conditioning. I train in Mouratoglou next to SKEMA, it's also where my mother works, as tennis is really inked in my daily life. I also give tennis lessons for the youngest because I really like the pedagogical approach with the children and to see them evolve. 
Can you tell us about your track record? 
I was ranked 4-6 in tennis some time ago but I was Vice Champion of France padel 2 years ago. I also graduated as a tennis educator. 
How do you combine sport and studies at SKEMA? 
In BBA we don't have that many face-to-face hours, which gives me the opportunity to organize my days as I wish. In addition, top athletes have a more flexible schedule. I plan my training at the beginning of the week according to the courses and revisions of the week. The other students also help us to make up for what we miss. 
What are your future goals? 
First of all I would like to continue my BBA in the US because sport is better put forward in the school system below. Tennis must remain a means of entertainment for me so my objective is to please me by meeting good players in tournaments! At the level of studies, I would like to continue to succeed in a Master in Finance abroad to be able, later, maybe to work in Sports Management to manage the sports daily life of athletes. 
Thank you Roxanne Leclercq! Good luck!