Interview of Alexandre Grand-Guillot, windsurfing athlete in Sophia-Antipolis
Publié il y a 4 mois par Vincent SIMARD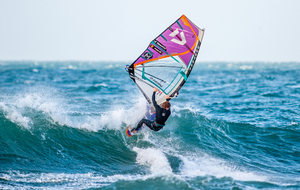 English version below.
Bonjour Alexandre ! Peux-tu te présenter ? 
"Bonjour ! Je m'appelle Alexandre Grand-Guillot, j'ai 24 ans, je viens du Nord de la France en Manche, je suis en BBA 3ème année à SKEMA Sophia en track Marketing et je suis Sportif de Haut Niveau en windsurf. Avant d'intégrer SKEMA, j'ai fait un BTS en communications."
Peux-tu nous parler de ton sport ? 
"Bien sûr ! J'ai commencé à 9 ans à faire du windsurf. J'ai ensuite enchaîné les compétitions de type vague, courses slaloms, etc. C'est un peu plus tard que j'ai eu mes premiers résultats avec mes premiers sponsors. J'ai donc rapidement voulu poursuivre ce sport sur le plan professionnel. J'ai donc intégré le club du pôle nautique de la Hague. Je pouvais donc lier études et sport durant mes années de lycée. Le windsurf est un sport très dépendant de la météo, nos entraînements sont donc prévus en fonction des conditions météorologiques et ne suivent pas d'horaires ni de plannings précis. Nous nous entraînons quand nous pouvons le faire !
De plus, c'est cette passion qui me drive au quotidien, me donne la motivation d'entreprendre des choses et de me challenger. J'ai créé un besoin d'océan qui m'est indispensable. Mon sport m'a permis de faire de nombreuses rencontres, de pouvoir trouver des sponsors, de dépasser mes limites et d'aller plus loin. "
Peux-tu nous citer ton palmarès ? 
"J'ai été champion de Normandie, Champion de France en catégorie U20, Vice-Champion du monde 2017 en U20 également. Je suis dans le top 5 français et voudrais vraiment prendre par au circuit international."
Comment allies-tu sport et études à SKEMA ? 
"Eh bien comme dit précedemment, mes entrainements dépendent de la météo. Donc je n'en ai pas beaucoup dans la semaine. En revanche, si le temps est favorable sur un jour ou deux, je m'organise pour prendre la journée ou du moins une grosse part pour pratiquer ! J'ai la chance de pouvoir échanger avec mon tuteur pour organiser mes semestres et mes horaires. Je peux aussi compter sur mes amis pour m'aider à rattraper les cours manqués et je peux aussi demander aux professeurs directement de m'envoyer le contenu de leurs cours. Tout est une question d'organisation !"
Quels sont tes futurs objectifs ? 
"Sportivement, j'aimerais pouvoir encore progresser et évoluer en faisant beaucoup de voyages et de rencontres. Mon principal objectif est d'intégrer le circuit international (top mondial) et de m'amuser en pratiquant ma passion. 
Professionnellement, je voudrais en premier temps réussir mon diplôme BBA à SKEMA et peut-être par la suite continuer en M2. Je n'ai pas vraiment d'idée précise concernant un futur job mais je compte bien continuer mon sport à fond et viser au plus haut !"
Merci Alexandre Grand-Guillot ! Bonne continuation !   
Photo de @MateoGanadu
----------------------------------------------------------------------------------------------------------------
Hello Alexandre! Can you introduce yourself? 



"Hello! My name is Alexandre Grand-Guillot, I am 24 years old, I come from the North of France in the Manche department, I am in BBA 3rd year at SKEMA Sophia in Marketing track and I am a windsurf athlete. Before joining SKEMA, I made a BTS in communications."
Can you tell us about your sport? 



"Sure! I started windsurfing when I was 9. I then started the wave competitions, slalom races, etc. I had my first results with my first sponsors a little later. So I quickly wanted to continue this sport on a professional level. Then, I joined the Club of the water sports center of la Hague. Therefore, I could link school and sports during my high school years. Windsurfing is a very weather-dependent sport, so our training sessions are planned according to weather conditions and do not follow specific schedules. We train when we can!
Moreover, it is this passion that drives me every day, gives me the motivation to undertake things and to challenge myself. I have created an ocean need that is indispensable to me. My sport has allowed me to meet many people, find sponsors, go beyond my limits and go further.



Can you give us your track record? 



"I was Normandy champion, Champion of France in the U20 category, and Vice World Champion 2017 in the U20 as well. I'm in the top 5 in France and would really like to take it by at the international circuit."



How do you combine sport and study at SKEMA? 
 
"Well, as you said before, my training depends on the weather. So I don't have a lot of training in a week. However, if the weather is favorable on a day or two, I organize to take the day to practice! I have the chance to exchange with my tutor to organize my semesters and schedules. I can also count on my friends to help me catch up on missed classes and I can also ask teachers directly to send me the content of their classes. It's all about organization!"



What are your future goals? 



"Sportily, I would like to be able to progress and evolve further by making a lot of trips and encounters. My main goal is to join the international circuit (top world) and have fun practicing my passion. 

Professionally, I would first like to pass my BBA degree at SKEMA and then perhaps continue in M2. I don't really have a precise idea about a future job but I intend to fully continue my sport and dream big!"



Thank you Alexandre Grand-Guillot! Happy continuation!   
Photo by @MateoGanadu