Interview of Maxence Ginefri : tennis player and BBA student in Sophia-Antipolis
Publié il y a 3 mois par Vincent SIMARD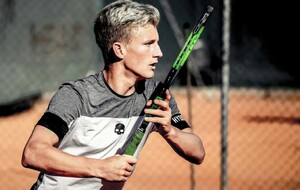 English version below 
Bonjour Maxence ! Peux-tu te présenter ? 
" Bonjour ! Je m'appelle Maxence Ginefri, j'ai 18 ans, je suis en 2ème année BBA en spécialisation Entrepreneurship et je suis aussi sportif de haut niveau en tennis "
Peux-tu nous parler de ton sport ? 
" Alors, je fais du tennis depuis 11 ans. Depuis petit j'étudie dans des programmes sport-études pour vivre ma passion à fond. J'ai été dans plusieurs académies, notamment en Espagne et aux Etats-Unis afin de pouvoir évoluer en académie de tennis. Plus récemment, j'ai pu intégrer l'académie de Mouratoglou à Sophia-Antipolis. Ces programmes me permettent à la fois d'étudier et de suivre un enseignement général tout en pratiquant le tennis de manière intense. Je m'entraîne 5/6 fois par semaine 3 heures et je fais aussi environ 1h30 de physique avant ou après les entraînements. Je dirais que pour moi, le tennis c'est une dépendance, arrêter de jouer ça serait comme arrêter de manger. Cela m'apporte beaucoup chaque jour et ça me permet d'atteindre une certaine harmonie personelle."
Peux-tu nous citer ton palmarès ? 
" Bien-sûr, je commencerais en disant que je suis classé 0, pour moi c'est une fierté. Je participe à des tournois nationaux, régionaux ou locaux (par exemple le tournoi de Mouratoglou). Il y a peu de temps, j'ai gagné deux points transitoires sur un tournoi en Suisse et un tournoi en Espagne. Je me contente de voyager en Europe pour participer à des tournois mais j'aimerais aller plus loin dans le futur. J'ai aussi participé à un tournoi 25 000 (tournoi pro) et ai participé à un quart de finale en grade 5."
Comment allies-tu sport et études à SKEMA ?
" Je t'avoues qu'au début c'était assez compliqué pour moi en terme d'adaptation. Mais plus j'avancais dans le programme, plus je me rendais compte que SKEMA était à l'écoute. J'ai négocié avec la direction pour me permettre de réaliser mon diplôme du BBA sur cinq ans au lieu de quatre pour avoir moins de matières sur chaque semestre. Je demande régulièrement des entretiens avec mes professeurs pour qu'ils m'expliquent leurs cours et qu'ils me tiennent au courant des devoirs et projets à faire. Cela me sert à m'organiser au mieux entre mes entraînements et mon travail personnel. De plus, il nous est possible de prendre des cours durant l'été si l'on a eu du mal pendant la période scolaire classique. Je dirais que les possibilités d'aménagement sont nombreuses et peuvent vraiment s'adapter à tout type de sportif de haut niveau !"
Quels sont tes futurs objectifs ? 
" Sur le plan sportif, il est assez difficile de gagner sa vie en faisant du tennis : seulement le top 100 mondial arrive à avoir assez d'argent avec le tennis pour vivre une vie normale. Donc je pense qu'en faire mon métier serait compliqué. Néanmoins, j'aimerais faire partie du top 800 ou top 700 mondial plus tard et si je peux aller encore plus loin je ne dirais pas non !
J'ai choisis la spécialisation Entrepeneurship à SKEMA pour pouvoir créer ma boîte plus tard. Je n'ai pas vraiment d'idées mais avec un ami à moi, nous voulons peut-être monter une entreprise de revente de voitures en import/export, mais cela reste une idée."
Que dirais-tu à un sportif de haut niveau voulant intégrer le programme BBA à SKEMA ?
" Je lui dirais de ne pas hésiter sur SKEMA ! Au premier abord, cela paraît compliqué de conjuguer les deux mais en réalité, SKEMA peut parfaitement s'adapter au style de vie d'un sportif et permettre à l'élève de vivre une vie bien. Il est important de tenir une relation avec Nathalie SANCHEZ, la responsable sport et de la tenir au courant de nos fais et gestes pour coordoner SKEMA avec nos styles de vie."
Merci Maxence Ginefri ! Bonne chance pour la suite de tes projets !
Hello Maxence! Can you introduce yourself? 
"Hello! My name is Maxence Ginefri, I am 18 years old, I am in 2nd year BBA in Entrepreneurship specialization and I am also a high performance athlete in tennis "
Can you tell us about your sport? 
So I've been playing tennis for 11 years. Since I was a kid, I've been studying in sports and study programs to live my passion to the fullest. I have been in several academies, notably in Spain and the United States in order to be able to evolve into a tennis academy. More recently, I was able to join the Mouratoglou Academy in Sophia-Antipolis. These programs allow me to both study and follow a general education while practicing tennis intensively. I train 5/6 times a week 3 hours and I also do about 1h30 of physics before or after training. I would say that for me, tennis is an addiction, stopping playing would be like stopping eating. It brings me a lot every day and allows me to achieve a certain personal harmony."
Can you tell us your track record? 
Of course, I would start by saying that I am ranked 0, and I'm proud of this. I participated in national, regional or local tournaments (for example the Mouratoglou tournament). A short time ago, I won two transitory points on a tournament in Switzerland and a tournament in Spain. I only travel to Europe to participate in tournaments but I would like to go further in the future. I also played in a 25,000 (pro) tournament and played in a grade 5 quarter-final."
How do you combine sports and studies at SKEMA?
"I acknowledge that, at first it was pretty complicated for me in terms of adaptation. But the more I got into the program, the more I realized that SKEMA was listening. I negotiated with management to allow me to complete my BBA diploma over five years instead of four to have fewer courses on each semester. I regularly ask for interviews with my teachers so that they explain their content to me and that they keep me informed of homework and projects to be done. This helps me to organize myself in the best way between my trainings and my personal work. In addition, it is possible for us to take classes during the summer if we had difficulty during the classical school period. I would say that the possibilities of development are numerous and can really adapt to any type of high-level athlete!"
What are your future goals? 
"Sportively, it's pretty hard to earn your living playing tennis: only the top 100 in the world can get enough money with tennis to live a normal life. So I think making it my job would be complicated. Nevertheless, I would like to be in the top 800 or top 700 world later and if I can go even further I won't say no!
I chose the Entrepreneurship specialization at SKEMA to be able to create my company later. I don't really have any ideas, but with a friend of mine, we may want to start an import/export car resale business, but it's still an idea."
What would you say to a top athlete who wants to join the BBA program at SKEMA?
"I would tell him/her not to hesitate on SKEMA! At first glance, it seems complicated to combine the two but in reality, SKEMA can perfectly adapt to the lifestyle of a sportsman and allow the student to live a good life. It's important to have a relationship with Nathalie SANCHEZ, the sport manager, and to keep her informed of our actions to coordinate SKEMA with our lifestyles."
Thank you Maxence Ginefri! Good luck with the rest of your projects!