Interview of Edouard Bonnefoix, SHN cyclist and BBA Sophia
Publié il y a 3 mois par Nathalie SANCHEZ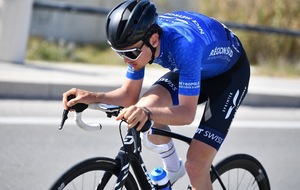 Here is and interview of high-level cyclist and BBA student Edouard Bonnefoix (English version below)
Bonjour Edouard, pouvez-vous vous présenter en quelques mots ?
Je suis Edouard Bonnefoix, j'ai 22 ans (09.12.1988), né à Montbrison (Loire). Je suis cycliste de 1ère catégorie, au Sprinter Nice Métropole depuis janvier 2021 après 4 saisons à l'UC Monaco. Je suis Sportif de Haut Niveau à Skema au programme Bachelor en spécialisation Marketing. J'ai effectué ma rentrée en Fall 2016 directement après avoir obtenu mon Baccalauréat.
Pouvez-vous nous en dire plus sur votre club, votre équipe et votre niveau de cyclisme ?
Nous courons en N2 et sommes une équipe de 15 coureurs âgés entre 18 et 28 ans. Je suis personnellement Élite en 1ère catégorie, qui est la plus haute catégorie amateur française. Le club se déplace beaucoup à l'étranger sur des courses de Classe 2, qui regroupent amateurs et professionnels.
A quoi ressemble une saison type en cyclisme ? (dates importantes, compétitions clés…)
La saison débute en février, généralement dans le sud de la France, et se poursuit sans interruption jusqu'à mi-octobre environ. En fil rouge de la saison nous avons une Coupe de France des clubs (4-5 manches), et nous participons à des courses amateurs de niveau Élite et des courses pro un peu partout en Europe au cours de l'année.
Vous avez intégré la section SHN (Sportifs de Haut Niveau) de l'école Skema. Est-ce que celle-ci vous a permis de vous concentrer à la fois sur votre carrière sportive et les études ?
Oui ; c'est d'ailleurs pour cela que j'avais choisi Skema. J'étais au lycée vers Lyon, et Skema était la meilleure école proposant un programme ouvert aux sportifs de haut niveau. Ne voulant pas arrêter le cyclisme pour me concentrer sur mes études, comme c'est parfois obligatoire, le programme SHN de Skema m'a offert l'équilibre entre la pratique du sport de Haut Niveau et une scolarité de qualité.
Quelles modifications ont été apportées au cursus classique du BBA pour vous permettre de mener le double projet ?
La plus notable est sûrement la facilité avec laquelle on peut moduler l'emploi du temps. Typiquement, je suis rarement libre le matin car c'est le moment où je roule, et je n'ai quasiment jamais eu de cours le matin sur l'ensemble de mon parcours. La possibilité de reporter les coefficients des évaluations manquées est également intéressante. A cause du Covid et pour continuer mon parcours sportif, mon départ à l'international sur un campus Skema a été annulé, cependant mon expérience sportive internationale m'a permis de remplir les critères à la graduation.
Quels sont vos objectifs sportifs et professionnels pour la suite ?
L'objectif est de trouver une équipe professionnelle à la fin de la saison pour pouvoir continuer à découvrir le monde grâce au cyclisme. Du côté scolaire, je devrai être diplômé en janvier 2022 et j'aimerais travailler dans le domaine du sport au sein d'une entreprise internationale, en tant que chef de produit, par exemple.
Toute l'équipe de Skema Sports vous souhaite bonne chance pour cette saison ! ;)
 Julia Benhamou
Assistante SKEMA Sports
English version
Hi Edouard, could you describe yourself in a few words ?
Hi, my name is Edouard Bonnefoix, I'm 22 years old (09.12.1988), born in Montbrison (Loire, France). I'm a first category cyclist at the Nice Sprinter Metropole, which I joined at the beginning of 2021 after having done 4 seasons with UC Monaco. I'm a student at the Skema SHN section in the Bachelor Program, specialised in Marketing. I integrated Skema in Fall 2016 right after I obtained my Baccalauréat.  
 Could you tell us about your club, your team and your level in cycling ? 
We compete in N2 (National 2), and we are a team of 15 runners which go from ages 18 to 28. I am personally an Elite cyclist in the 1st category, which is the highest category in the amateur section. My team and I travel internationally to compete in Class 2 competitions, which unite amateurs and professionals.
What does a typical cycling season look like (important meets, key competitions…) ?
The season starts at the beginning of February, generally in the South of France, and ends in the middle of October, with no interruptions whatsoever. The highlight of the season is the French Cup (national competition) between clubs (4-5 rounds). We also participate in Elite level amateur competitions and professional competitions all over Europe.
You joined the Skema SHN section (Sportifs de Haut Niveau) in Fall 2016. Did it allow you to focus on your studies and your sports career at the same time ?
Yes it did, and that is exactly why I chose Skema. I was in high school near Lyon, and Skema was the best school offering me a program open to high-level athletes. I didn't want to have to quit cycling to focus on my studies, which many have had to do, so I was grateful that the SHN program allowed me to have balance between high-level competition and a great higher education. 
What modifications were brought to the classic BBA (Bachelor) course to allow you to manage both studies and sports at the same time ?
The most important change is probably how easily I can modulate my time-table. Typically, I run and train in the morning and my time-table was adapted to this as I almost never had classes in the morning during the integrity of my scholarship. I also had the possibility to delay the coefficients of evaluations I had missed, which was very interesting. Because of covid and my athletic priorities, my international departure to another Skema campus was cancelled. Fortunately, my athletic international experience allowed me to fill the criteria for graduation.
What are your athletic and professional goals for the future ?
My main goal is to join a professional team by the end of the season to be able to continue to discover the world thanks to cycling. On the scholar side, I graduate in January 2022 and hope to work in the athletic domain, in an international company, as a product manager for example.
The whole Skema Sports Team wishes you good luck for this season ;)
Julia Benhamou
SKEMA Sports Assistant
Photos associées : Edouard Bonnefoix, cyclist, BBA student, 4th year