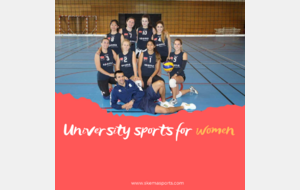 Try out 5 team sport and win prices ! Open to every girl student !
English version below : 

👋🏻Tu es skémienne à la recherche d'une nouvelle discipline pour dépasser tes limites ou pour simplement découvrir de nouvelles personnes. Ce post est fait pour toi. 
💪🏻Skema sport se mobilise sur le campus de Sophia-Antipolis. L'objectif est de faire découvrir 5 sports collectifs proposé au féminin. 
🏆Ballons ronds ou ovales, tu découvriras le handball, le volleyball, le basket, le rugby et le football. Tu as jusqu'au 20 octobre pour tester tous ces sports. 
🥇Ta curiosité sera récompensée : si tu participes aux 5 soirées, tu te verras offrir ta licence pour le sport de ton choix et un sweatshirt de l'association Skema Sport. 
📣On vous attend nombreuses : inscriptions
💬et n'hésitez pas à consulter l'ensemble de notre proposition sportive sur le site de skema sport : planning des sports
😀À très vite !

🇬🇧🇬🇧
👋🏻You're a Skemien girl looking for a new discipline to push your limits or simply to meet new people. This post is made for you. 
💪🏻Skema Sport is mobilizing on the Sophia-Antipolis campus. The aim is to introduce women to 5 team sports. 
🏆Round or oval balls, you'll discover handball, volleyball, basketball, rugby and soccer. You have until the 20th of October to try out each of this sports.  
🥇Your curiosity will be rewarded: if you take part in all 5 evenings, you'll receive your license for the sport of your choice and a Skema Sport association sweatshirt. 
📣We look forward to seeing many of you: registration
💬and don't hesitate to check out our full range of sports on the Skema Sport website: schedule
😀See you soon!