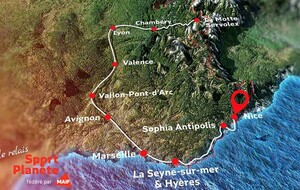 English version below 
-----------------------------------------------------------------------
Bonjour à tous !
Ce weekend aura lieu la première édition du Relais Sport Planète, un évènement fédéré par la MAIF, en collaboration avec la Fédération Française des Sports Universitaires, STAPS, SKEMA Business School et l'association "Choisir le vélo".
Ce relais comporte 9 étapes relayant 10 villes en partant de Chamonix jusqu'à Nice. 
Le but est de relier ces villes en utilisant des moyens de transport non polluants comme le vélo, la course à pied. Les modes de déplacements restent donc très variables. 
SKEMA accueille la dernière étape qui reliera Sophia-Antipolis à Nice en utilisant le vélo, la voile et en courant. 
Parmis les participants de l'école, nous retrouvons des membres des associations du BDS Ske'Meute et de Skema Yachting.
Durant de ce weekend, une conférence se tiendra au grand amphithéâtre a SKEMA 1 le samedi 20 Novembre et le départ de la dernière étape aura lieu le lendemain matin vers 10h. 
En résumé, un weekend sportif à venir qui ravira les fervents adeptes d'endurance et de performance.
--------------------------------------------------------------------------------------------------------
Good morning, everyone!

This weekend will take place the first edition of the Relais Sport Planète, an event organized by the MAIF and in collaboration with the French Federation of University Sports, STAPS, SKEMA Business School and the association "Choisir le vélo".

This relay consists of 9 stages connecting 10 cities from Chamonix to Nice. 
The goal is to connect these cities using non-polluting means of transport such as cycling, running, etc. Travel patterns therefore remain highly variable. 

SKEMA hosts the last stage that will connect Sophia-Antipolis to Nice using cycling, sailing and running. 

Among the participants of the school, we find members of the associations of BDS Ske'Meute and Skema Yachting.

During this weekend, a conference will be held at the large amphitheatre in SKEMA 1 on Saturday 20 November and the start of the last run will take place the next morning around 10am in SKEMA 1.

In short, an upcoming sports weekend that will delight enthusiasts of endurance and performance.