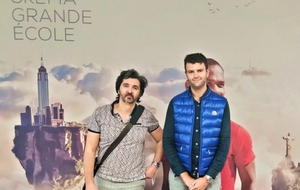 Hello SKEMA students !
Last saturday took place the medical certificate day in Sophia from 9am to 5pm.
Students who want to participate to college sport competitions must have a medical proof of their ability to practice. Therefore, SKEMA sports organised a special certification day with two doctors : Dr Baroghel and Dr Burgey.
It was the opportunity for more than 40 students who hadn't made any certificate to get it free thanks to SKEMA sports. 
Thanks to DCP Médical for providing us great equipment such as electrocardiograms, oscultation tables, etc.
SKEMA sport is enthusiactic for having provided medical and administrative help for students. 
We hope doing it again next year.
See you !