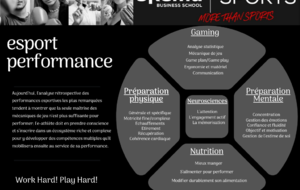 Hello,
SKEMA Sports proposes e-sports sessions for students who want to join gaming lessons. But as you probably don't know, e-sports require the same preparation as physical activities in order to perform.
When we basically speak about sports, we automatically think about : effort, nutrition, shape, muscles, and so on.
But all these characteristics that appear beeing fundamental to be efficient when exercizing are also valid for e-sports. In fact, mastering games is something you can't do without to get results in this discipline, but studies have showed and proved that a healthy and sustainable lifestyle is crucial for e-players to success. 
Furthermore, e-athletes must develop their interpersonal skills to complete the team work. Indeed, most people who don't really know about e-sports usually think that each player plays its own strategy rather than working in team. In reality, e-sports is a really complex team work where each player of the team has a specific role. Communicating and following the plan are features e-athletes must master to be efficient. 
Therefore, any discipline whether belonging to physical or online practices, requires several mental, nutritional, preparative and communicative habits. 
I hope you will find inspiration throughout this document and don't hesitate to join the e-sport team !