SKEMA Sophia French champions of Futsal !!!
Publié il y a 3 mois par Vincent SIMARD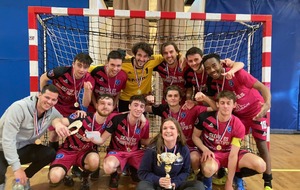 Our team traveled to Champs-sur-Marne (77) this weekend for the last stage of the French Cup.
The objective was to create a fantastic competition and to take it as far as possible. There was no predetermined goal for winning these finals. Perhaps this is the key to winning championships!! Our guys, on the other hand, did not have an easy time getting to these finals. They were able to work their way up to the title of champions one step at a time.
The phase of the pool:
Our lads, EM Lyon and BBA de St-Etienne, made up the group.
Our match against Lyon ended in a 3-3 deadlock, but our squad defeated BBA de St-Etienne 6-2.
We qualified for the semi-finals because of this pattern.
We faced HEC Paris in the semi-final the next day, knowing it would be a difficult match to win and that we would have to go all out. We won the game 4-2 and earned a place in the final against Lyon.
This was the competition's last and most stressful encounter. Finally, after a tense confrontation and a high level of suspense. Our team came out on top 2-1!
Big up to Arthur RANUCCI who was elected best player of the competition.
Congratulations to the SKEMA team and our players :
Joseph CESBRON
Sacha DEHEM
Arthur RANUCCI
Arthur SAUGUET
Ellian HAMIDOU
Théo VELASCO
Anatole MULLIEZ
Léo BERENGIER
Amaury BODET
Basile DE COINTET
The coach : Charles MISSUE