From Olympia and Athens to..... Beijing, the initiatory journey of the Olympic flame.
Publié il y a 4 semaines par Vincent SIMARD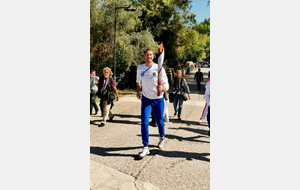 The occasion was too beautiful, to take advantage of the inauguration of the new premises of the International Olympic Academy, from its 60th anniversary to go to experience the ritual lighting of the Olympic flame in the ancient stadium of Olympia, this mythical place from where the history of the Olympic Games could be revived thanks to Baron Pierre de Coubertin. 
Two hundred guests from all over the world were present to live this symbolic communion, representing the different spheres of the Olympic and Sports Movement, with in the first place the President of the Republic of Greece, Mrs Ekateríni Sakellaropoúlou and the President of the International Olympic Committee Thomas Bach, without forgetting the President of the National Olympic Committee of Greece and the Association of European National Committees Mr Spyros Capralos. 
 
And SKEMA also have been represented, since Ivan Coste Manière, Vice-President of the Association Francophone des Académies Olympiques and his friend Alain Bernard, our «celebrity» Olympic champion of the Skema Sports Association will have participated in numerous meetings and interviews. They had been invited because of their long involvement at this level and were awarded honorary medals by the IOC and the IOA. Alain Bernard even had the honour of being named torchbearer in Olympia, a city twinned with Antibes. 
A few meters from the stele that contains the heart of Pierre de Coubertin, beautiful emotions, depth with the rite of vestals, the release of the dove, immutable symbols, to after the relay find the flame at the panhellenic stadium of Athens, before she leaves for Beijing to host the next Winter Games… 
 
Grandiose, and a real bridge between the two cities for secure Games and a flawless organization as the protocol is lived and known by all participants.
Thanks Ivan Coste-Manière for having provided us a beautiful and intense description of this journey.