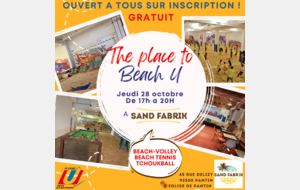 Hi sportsmen ! 
Thursday, October, 28th will take place the first edition of the BEACH U event ! From 5pm to 8pm, students will meet in SAND FABRIK (45 rue Delizy, 93500, Pantin, Eglise de Pantin). 
But in what this tournament consists in ? It is a on-sand-three-sports tournament which involves Beach-volley, Beach-tennis and Tchouk-ball.
The participants will compose teams of 4 or 5 students. 
Totally free for students, you must be registrated as a FFSU licenced student to participate. If you did not completed it, go on Skemasports.com, click on the "registration" button on the top ribbon and choose "competition FFSU". Then fill the empty boxes and do not forget to link a valid medical certificate (done in 2021). 
How to register ? You need to fill in an online form on :  https://bit.ly/3G3btbd until October, 27th, midnight. Registrations are individual but the team name must be mentionned while filling the form. Students with no team will be gathered between them to create groups.
You are allowed to bring snacks but no meals !!! A special set menu will be proposed to you: Vegetarian sandwich + crudités + drink + fruit = 8€ only ! 
If you are interested in this offer, reserve your meal on October 25th at the latest when filling your form up. 
Thank you for being attentive to this news and if you intend to come.....do not forget to enjoy at your max !!!!
See you.