Paralympics live session in Paris
Publié il y a 2 mois par Vincent SIMARD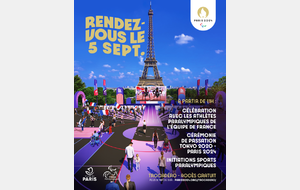 Hello, 
 
 
I hope that you have had a great summer and I come back to you to encourage yourselves to spread information among members of your institution about the Paris 2024 teams.  
 
 
On Sunday 8th August, more than 5,000 people were present at Place du Trocadéro, to experience one of the greatest highlights of Paris 2024 since the beginning of the adventure: the Olympic handover ceremony. The images shared between the public and the medal-winning athletes gave the world a first glimpse of the ambition of the Paris 2024 Participatory Games. 
 
 
 
Now, it's time for the Paralympics! Sunday, September 5th, will take place the Paralympic Award Ceremony, in front of millions of viewers who will attend a live session of the closing ceremony of the Tokyo Games, in Place du Trocadéro. 
We count on all of you to take part of the Closing Ceremony with the athletes of the French teams! 
 
This event will close two months of emotions and sport, and officially launch the 2024 Paris Games! 
 
 
On the program: 
 
 
Opening of the site at 11h00 
13h00 : Broadcasting of the closing ceremony of the Paralympic Games live from Tokyo 2020 
Starting from 14:00: Live session Paris 2024 artistic show with French Team Paralympic medalists 
15h15 : Activities and sports initiations accompanied by the great champions 
 
 
Practical information: 
 
In anticipation of your arrival and in accordance with the health protocols in force, we inform you that the following supporting documents will be requested at the entrance of the site: 
Your ID 
Your validated health pass, showing proof of RT – PCR or antigenic tests of less than 48H or your complete vaccination certificate. 
 
 
See you there ! 
Contact :